I have this setup on a cumulus vx: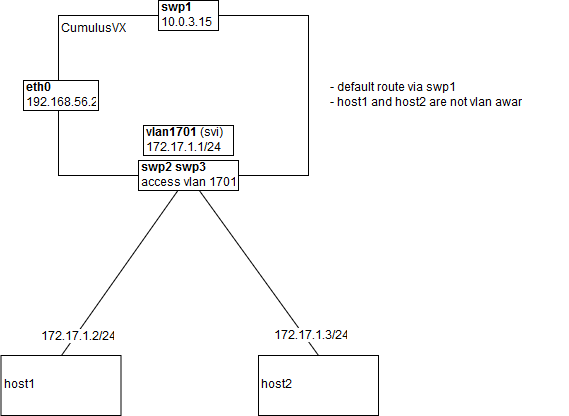 The steps I used to configure cumulus were:
Configure swp1 with ip address via dhcp
Configure default route via swp1
Configure swp2 and swp3 as access ports to vlan1701
Configure svi vlan1701 with ip address 172.17.1.1/24
Traffic from hosts 1 and 2 is not forwarded out swp1. What am I missing to get this to work?
Thanks in advance!
Best answer by Collin 11 October 2018, 15:03
Your SVI is not a member of the bridge. Add the following to iface vlan1701:

vlan-raw-device bridge


Alternatively, you could go "old school" and change the SVI syntax:

auto bridge.1701
iface bridge.1701
address 172.17.1.1/24
alias default_Gateway
View original